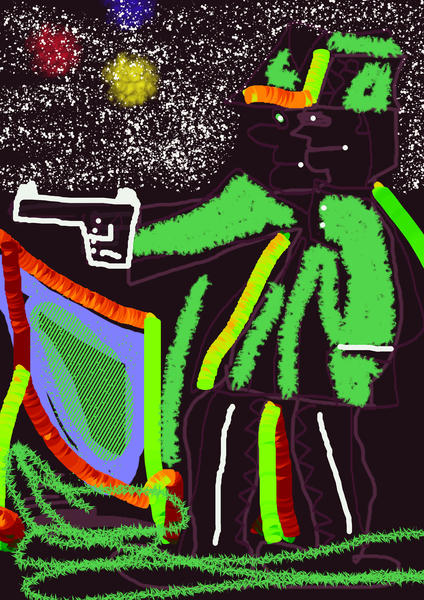 Intense teeth marks on your back
Eponymous hero to blame
Refrain from blasting him in the face
before your shotgun wedding cake, cake, cakeImagine a silent lake surrounded by raging seas
and at the centre is a fire surrounded by kneeling beasts
Imagine the sound that comes from within
testing the souls brethren.
Side by side you stand
keen to place the first shot
to an enemy not
your ally
your enemy
inside the spewing fire
Behold the twig of iron
placed hot against your temple.
and pray that nothing comes
Bedside, bedside, bedside again
do I have to face that face?
And there was a kickass, gunslinging battle.
Yeah!
With broken bottles everywhere!
Raise fire
Raise Steel
Get behind the steering wheel
And ram the barricades.
Poem by Andrew Watkins
Art by Andrew Watkins